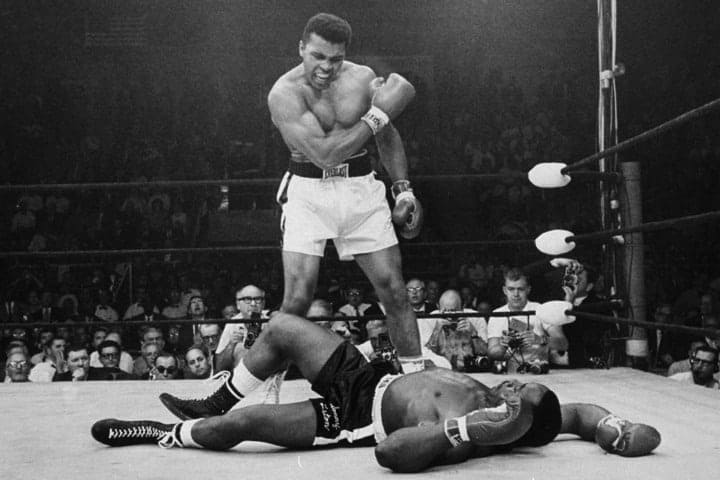 What does that mean? 
To me, it means that if you are willing to put up with something you don't like now, you can have something better afterwards.  To turn it around, the people who have exceptional accomplishments are the people who were willing to pay the price.  They have what you don't have because they were willing to do what you weren't willing to do.
In this case, it was training (and training, and training some more, followed by even more training).  Jumping rope until your arms felt like they were going to fall off, and then doing some more.  Standing there and taking body blows for what probably seemed like hours, to toughen up the core and ribs.  Doing push-ups until you can barely get up, and then falling to the matt because you just can't hold your own weight anymore.  But he did all that and so much more, and ever since then he has been known as "The Greatest."
Isn't this just the perfect model for success…?
Not everyone is cut out to be a heavyweight boxing champ, but everyone can be exceptional.  There are exceptional entrepreneurs, exceptional dancers, and exceptional singers. You might have that in you, so it couldn't hurt to start locally.
Take your business. Could you do more?
Wouldn't you love your business to have the same working model that has the ability to achieve greatness?
Make yourself the best, your staff superior, and your quality the highest!
How?
Train! Health and Safety Training is a great start to any training developments. Do your staff have sufficient health and safety training in the workplace? Once you have basic health and safety training you can integrate it into everyday tasks. This is just a stepping stone to lead onto greater things. Like Muhammad Ali's push ups to make himself stronger, each training course your staff undergo will make them shine brighter.
Multi-accredited
Being an accredited centre for ECITB/CCNSG, IOSH, and Safety Pass Alliance (SPA) allows Humber Resource Training to provide a flexible and informative service.



HGV
Why not go for a career change? Our HGV Training allows you to gain a full Class 2 and/or Class 1 Licence with CPC in as little as 6-8 weeks. And using our Pay4Later scheme also means payments are easy and affordable. Muhammad Ali didn't win his first fight after 8 weeks – but you could!
At Humber Resource Training we can offer you the quality, accredited training you require. You can see a full list of our training courses here
If you have enough passion for excellence, you will pay whatever price it takes to get there.
It takes a lot to be a champion – what are you willing to do to be one?
We strive to support individual development by providing a high quality, relevant and effective training service to the Engineering, Manufacturing, Logistics, Renewables and Commercial Sectors.
Call us on 01472 729914 for all enquiries.